Client: The Glide Foundation
—
For over 50 years, Glide has played a critical role in supporting San Franciscans in need. A nonprofit and church that has a rich history of social activism, it has been a force for creating transformational change in the city.
From its daily free meals program to harm reduction services, Glide's mission is to alleviate suffering and break cycles of poverty and marginalization.
Context
Our team of 6 CCA designers partnered with Glide's marketing team to uncover opportunities in their communications.
After identifying an opportunity to connect with the next generation of volunteers and philanthropists, we presented Glide with a vision for a new narrative through a landing page prototype.
01 | Unpacking the Glide Story
—
In collaboration with Glide, we used generative research methods to better understand the organization's communication ecosystem and identify opportunities for innovation.
We conducted interviews with Glide team members, donors, and volunteers in order to learn how each person had been personally impacted by the organization.
"I came here because I wanted to transform lives."
Glide empowers individuals to break the cycles of poverty, and team members are driven to create even more impact.
"I don't feel like I have to hide any part of my identity here. I feel free."
Glide is a place to connect, where everyone is welcome, and authenticity and vulnerability are shared by all.
"Change is coming. There's an opportunity there."
Glide has a powerful history, and an opportunity to evolve its narrative.
An Ecosystem of Opportunities
Using our learnings from stakeholder interviews, we put together a picture of the Glide communication ecosystem and developed a set of journey maps to understand the complexities of internal and external communication within the organization.
As a result, seven opportunities to improve Glide's communication arose and the team decided to move forward with a combination of two.
02 | Who are the millennials?
—
We talked to 15 people between the ages of 25-35 to understand what they care about. Where do they find personal value? What do they value in organizations? What do they think of what Glide has to offer?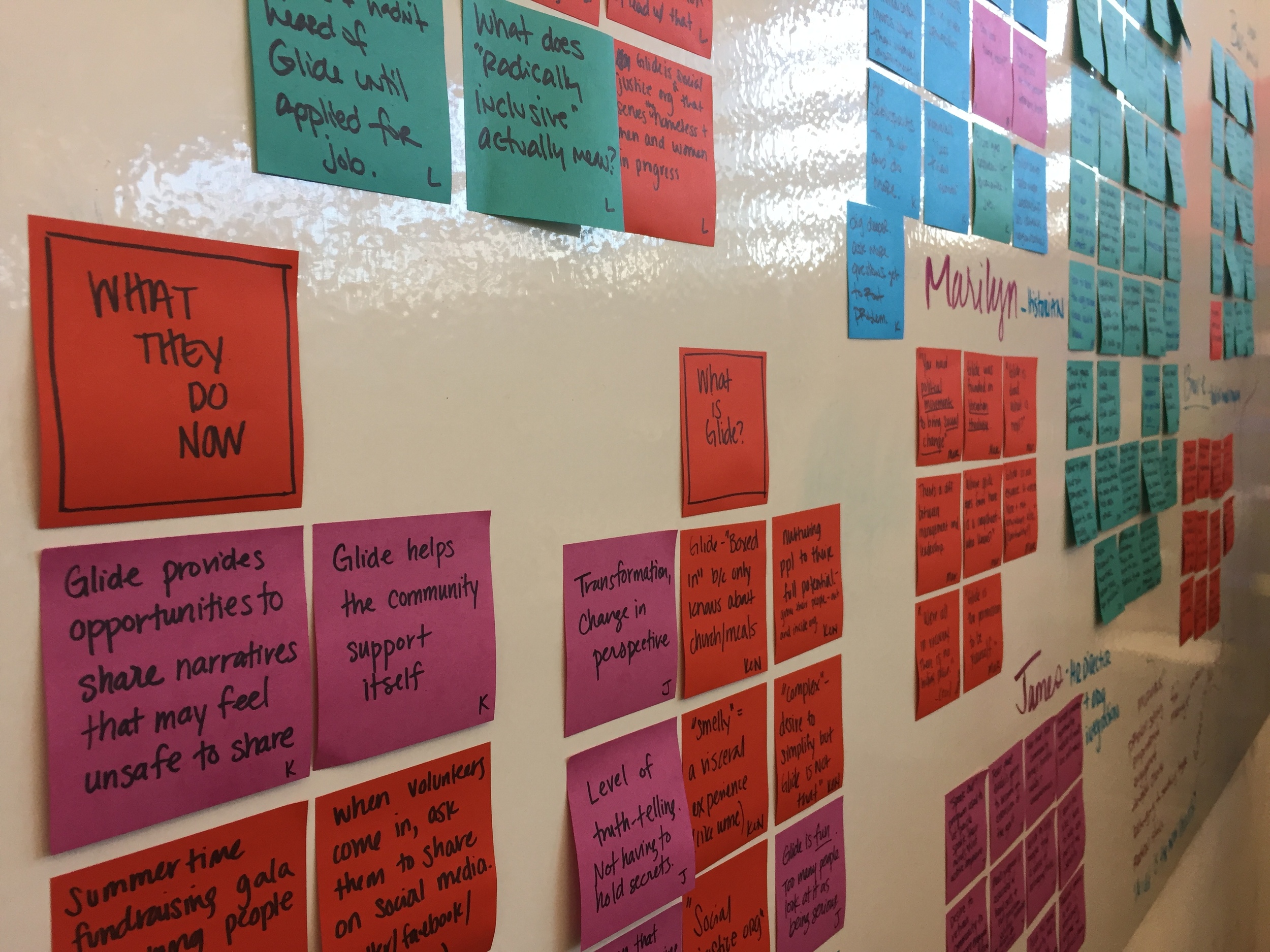 03 | Connecting the Dots
—
After synthesizing what we heard from both sets of interviews, we were able to see clear connections between what makes Glide special and what millennials value about organizations. We used these areas of overlap to create a design solution.
Prototyping a New Vision
Based on what we heard in all of our interviews with Glide team members and millennials, we designed a prototype of a landing page that was specifically tailored to resonate with a younger generation of volunteers and donors. This vision was presented to the Glide team along with recommendations for implementation.